Suddenly you wake up in a room, bound hand and foot. Next to you there are other hostages waiting for an uncertain future. You hear moans, groans and cries for help, but only your will and hope accompanies you. Outside you hear people walking, talking and getting into a van, maybe the possible kidnapper, now the question is: What will you do?
RED vs BLUE. Millennial rivals, their heirs fight for the galaxy. They must destroy the enemy ship's thermonuclear heart. This room is double, 2 teams (blue and red) compete in 2 identical rooms. Up to 12 people can play at the same time.
Vladimir is a very playful and very malicious boy, he is the son of your bosses, you and your friends are in charge of the maintenance of the house of his father, the Russian ambassador in Colombia. One day you hear a cry for help coming from Vladimir's room. When you get to the room, the door is locked, surely it was Vladimir playing a joke on you, you have to leave before your bosses arrive or else you will be fired.
Several years after particular events happened in the Morgan orphanage, its founders Isabel and Roger decided to close its doors. But they did not count on the fact that there would be a distraught soul of a girl haunting the old corridors, waiting for the day that someone dared to investigate the old house and find a way to free her soul. Do you dare to come?
16+
To confirm the reservation, we request the payment of a deductible advance of $40,000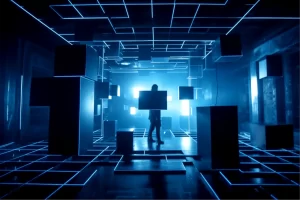 BOOK YOUR ESCAPE GAME NOW
Transversal 39B # 4-30, piso 3
We are located on Nutibara Avenue, next to the Euro and in front of Bancolombia.
Remember to make your reservation in advance.
We have a large space to welcome you and your friends.  We offer a delicious menu: appetizers, main courses, desserts, juices, beers and cocktails. You can find the menu here.